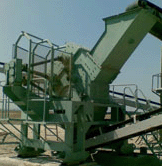 The specialists of Obukhovskaya Industrial Company designed, projected and developed commercially the crushing equipment of the new generation - the DIM-800К crusher (the crushing - reducing machine). A principally new design solution was found as the result of the search for new effective and energy-saving methods of rock crushing.
The first crushing machines and crushers for the processing plant appeared in 1995, and since that time the crushing - sorting machines have perfectly showed themselves in operation. The DIM-800К crusher (the crushing- sorting machine) is provided with an automated control system.
The innovative approach of successive crushing is used as the basis for the crushing machines (crushers) operation. The method of successive crushing has significant technological and technical-and-economic advantage, compared to conventional technologies. The unique crushing technology gives an opportunity to produce a cuboid shape of the crushed stones(gravels), reducing to almost none irregular shaped gravels. The crushing equipment produced by us, the crushing- grinding machines can be used for the processing of:
nonmetallic constructional materials, for example for gravel production;
recycling concrete waste and metallurgy waste;
mining salt in chemical and food industry;
during the preliminary raw material crushing for cement production and the production of paintwork materials;
the raw material in ore- and gold-mining industries, diamond production and organizations employed in mineral dressing.